In the News
The Churchill Society of New Orleans in the news, past events and more.
Click here to learn about our upcoming events.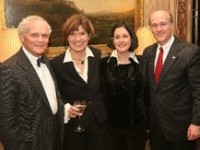 This excerpt is taken from the story published by the New Orleans Times-Picayune on Thursday, December 18, 2008. The Churchill Society held its sixth annual dinner in the Windsor Court's La Chinoiserie, with society president J. Gregg Collins, whose late mother was a British subject, introducing guest of honor Lynne Olson, author of "Troublesome Young Men." After the interesting and informative presentation on the book, a lively question and answer period followed. Another treat during the evening ...